Understanding the Question Funnel And Reverse Funnel
Learn About Questions Used To Help Students Learn Versus Interview Questions By Robert Bacal
Questions form the basis of interviews and problem solving in meetings, AND are invaluable in teaching and training. However, because the goals are different, you need to question different.
In training and teaching, you use questions to help learners learn, and "go deeper" about a subject. In interviews you use questions to get more and more specific answers. Likewise in group problem solving and facilitation.
The Questioning Funnel And Reverse Funnel
In the first diagram below, the funnel goes from starting with broader questions, then ending up at a specific answer. This question funnel is convergent. That is, you want to zero in on an answer. Your questions converge to a single point. This is used in problem-solving and in interviews (i.e. job interview)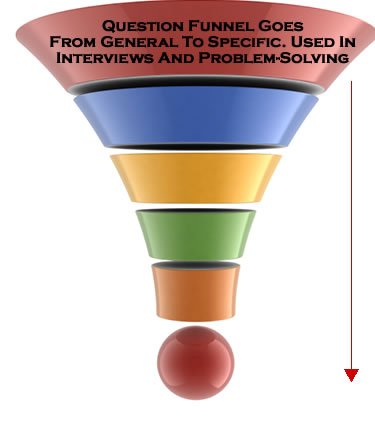 In teaching and training, though, questions CAN be used to narrow down to a specific answer, but their power comes from pushing students to think more deeply, and increase depth of understanding, as seen below.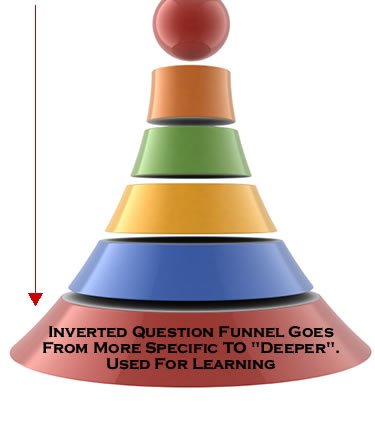 For more tips and advice on how to use various kinds of questions in training and teaching, click here.
Tags: #teachers #trdev #training #learning #questions #question funnel #asking questions #instructional techniques