The Importance of Training Needs Assessments
Two Types Of Training Needs Assessments
There are actually two types of needs assessment that are critical to getting a return on investment for training.
For A Specific Course Offering: The more you understand the participants in a specific training group, the better you will be able to select the best content and activities for that specific group, and use examples that make sense for that group. If, for example, you use examples that do not make sense to people there, or are inapplicable to their work environment, you "lose them" and damage your own credibility.
Across The Organization Or Workgroup: This type of needs assessment attempts to get out what training needs people in your target group have. What skills do they need to improve their work performance? This "bigger" assessment tries to tie learning to job performance, and is essential in maximizing return on investment.
Why Do A Needs Assessment For Each Delivery?
We do a needs assessment for each and every training project. Why? Here's the reasons in point form:
Every group comes in with different levels of experience, skill levels and concerns. While I may know about the last group, I need to know about the next ones, too, even if they come from the same workplace.
You can't tailor each delivery of training unless you know what the participants need. And if you miss the mark, and don't meet their needs, they will perceive both you and the content as irrelevant, something you won't be able to fix after the fact. The client looks bad, also, for arranging for training that doesn't fit.
A proper needs assessment allows you to use examples, role plays and other exercises that will resonate as real and relevant, and that's a key to establishing credibility of the material, and the trainer.
What About The Investment of Extra Time To Do Training Needs Assessments?
It doesn't have to be a huge investment. We have a standard questionnaire that we use, particularly when the participants are far away. it gives us enough information to tailor the material and process, because of the way we've crafted the questions.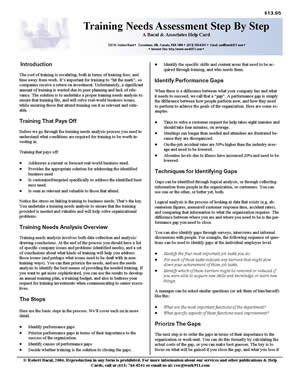 We've create a tool that will guide you through both the logic and steps of doing a training needs assessment quickly, but effectively. Click on desired format below.


Top : Training - Needs Assessments :
Doing a training needs assessment is important so that training is not wasted, and maximum benefit is received by both employees and the company. In this section you'll find information about needs assessment strategies and practices, needs assessment checklists and tools, and other resources related to training.
The secrets of LNA (Learning Needs Analysis)
By
Krystyna Gadd
Excellent overview of the LNA process and methods including an explanation of the differences between learning needs analysis, training needs analysis, and a plain old needs analysis.
Hits: 721 )
Training Needs Analysis - TNA
By
n a
The training needs assessment (TNA) is best conducted up front, before training solutions are budgeted, designed and delivered. The output of the needs analysis will be a document that specifies why, what, who, when, where and how. Find out the questions that need to be answered in order to conduct a thorough training needs assessment.
Hits: 1576 )
How to Conduct a Simple Training Needs Assessment - That Works
By
Heather M. Hatfield
This training needs assessment works best in small to mid-sized organizations. It will give you a quick assessment of the training needs of an employee group. This training needs assessment helps find common training programs for a group of employees.
Hits: 1991 )
Managing Employee Skills & Knowledge
By
n a
Investing in staff training is one of the keys of staying competitive in today's business world. This article will provide you with six steps for implementing staff training in your organization.
Hits: 1090 )
Future Focus: A New Approach to Self Assessment for the Owners of SMEs
By
David Milstein
Small to Medium-sized Enterprises (SME's) are reluctant to invest in training, even though in this "new economy" skills are increasingly the differentiator between success and failure. The author outlines a new approach to conducting training needs analyses that assists getting these businesses to invest in training.
Hits: 829 )
Needs Assessment - The First Step
By
Robert H. Rouda & Mitchell E. Kusy, Jr.
A simple, easy to follow four step model for assessing training needs, from gap analysis, determining priorities, finding root causes, and identifying possible solutions.
Hits: 979 )
Training and Development: Needs Analysis
By
HR Guide
Great overview of the different types of training needs analyses (yes, there are different types), plus a list of methods often used in performance and training needs analysis.
Hits: 501 )
| Library Home Page |
Pages Updated On: 22-Aug-2019 - 09:09:04